Spa packages with accommodation for two persons
(prices are for 2 people)
Low season: 1. 10. – 23. 12. 2021, 3. 1. – 13. 4. 2022, 1.10. – 23. 12. 2022
High season: . 5. – 30. 9. 2021, 26. 12. 2021 – 2. 1. 2022 (Christmas), 14. 4. – 30. 9. 2022, 26. 12. 2022 – 1. 1. 2023 (Christmas)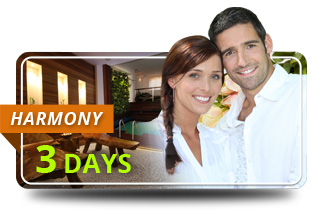 HARMONY – 3 DAYS (8.600,- / 9.000,-)
partner package
2x accommodation in a spacious room Junior Suite
2x breakfast buffet
1,5 hours using a private relaxation area with sauna and hot Magic Floating swimming pool with underwater music
1x ritual "Sugar breeze from paradise" including full-body peeling using a mixture of sugar cane and mild relaxing massage with scented exotic oil – for her
1x full body massage 75 minutes – for him
---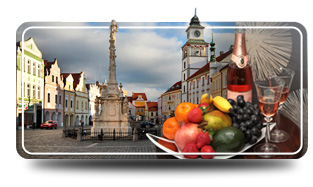 LADIES RIDE – 3 DAYS (8.300,- / 8.700,-)
relaxing stay package
2x accommodation in a Junior suite room
2x breakfast buffet
1× on arrival 0.75 l bottle of "Prosecco" sparkling wine in the room
1× Herbal bath "Seven Flowers" – a fragrant bath with an extract of seven medicinal herbs
1× Indian head massage, 45 minutes
1× afternoon coffee, tea or chocolate with dessert of your choice in our restaurant
Surcharge for extra bed for 3rd person: 2.600,-CZ
---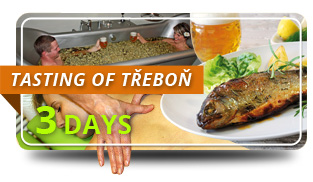 TASTING OF TŘEBOŇ – 3 DAYS (9.900,- / 10.300,-)
relaxing stay package
2x accommodation in a Standard double room
2x breakfast buffet
1x 3-course dinner in the White Unicorn restaurant
1x peat thermobandage with neck and back massage
1x Magic Floating 1 hour
1x Bohemia Regent brewery tour and beer tasting
1 Bath of Jakub Krčín (bath in Trebon Regent beer in a bath for 2)
---
INDIAN SUMMER – 4 DAYS (11.200,- / 11.800,-)
senior stay package
3x accommodation with breakfast in a Standard double room
3x breakfast buffet
3x prepaid voucher for 500,- CZK in the White Unicorn restaurant
1x neck and back massage, 30 min.
1x foot massage, 40 min.
1x Magnesium bath for 2
---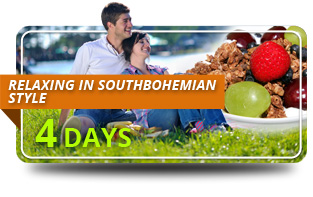 RELAXING IN SOUTHBOHEMIAN STYLE – 4 DAYS (10.900,- / 11.500,-)
relaxing stay package
3x accommodation in a double room with breakfast
1x 3-course dinner
3x breakfast buffet
1x herbal bath in a bathtub for two by choice (lemon balm, lavender, rosemary, marigold, comfrey)
1x Magic Floating for 1 hour
1x neck and back massage with the help of hot stones, 45 min.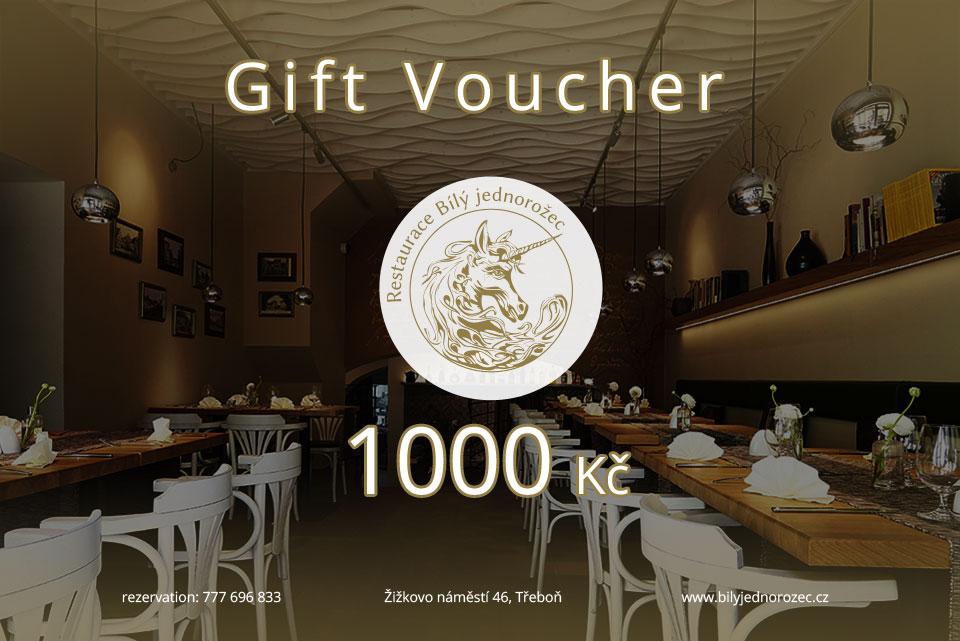 You can buy gift vouchers worth 500 CZK and 1000 CZK in the restaurant.
Ask your waiter or at the reception.
Restaurant menu is based on traditional Czech and fish cuisine but it is conceived neatly, elegant, lightweight and most importantly very tasty. Those who prefer interesting meals without meat also won't be disappointed.
Our credo is freshness and maximum use of local and farm products. Besides basic products which is supplied from local dairy farm Mláka and trout farm Mlýny, all ingredients are produced by ourselves.